After two very intensive days of live testing, scrutinizing and discussing entries from all over the world, the iF Final Jury 2022 has decided and the winners. A huge challenge for everyone involved still – because there are more than 10,000 entries submitted.
The iF DESIGN AWARD has been a globally recognized trademark when it comes to excellent design since 1954. It honors design achievements in all the following disciplines: Product, Packaging, Communication and Service Design, Architecture and Interior Architecture, as well as Professional Concept, User Experience (UX) and User Interface (UI).
Guide Sensmart, as a wholly owned subsidiary of Guide Infrared, which is a leading manufacturer of thermal imaging cameras, submitted four entries and three of them received the discipline Product of iF DESIGN AWARD 2022. They are Guide T120H Fever Screening Thermal Camera, TD Thermal Monocular and TN Thermal Binoculars.
Guide T120H is a fast temperature detection tool, which can be used to detect human temperature from a safety distance with accuracy of ±0.5℃. It is not only suitable for flexible temperature screening, but also can be deployed in high-traffic areas, which makes it an ideal device to improve the efficiency of epidemic prevention and protect public health.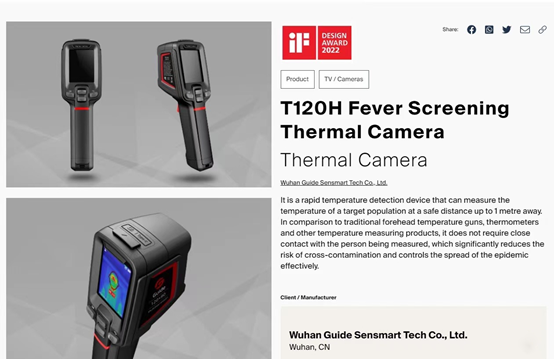 Guide TD Thermal Monocular is small, lightweight and easy-to-use for night vision. Started up in 2s, it supports multiple color palettes and PIP mode to highlight a target and captures sharp thermal images. Its laser indicator can be used to locate the target at 200m easily.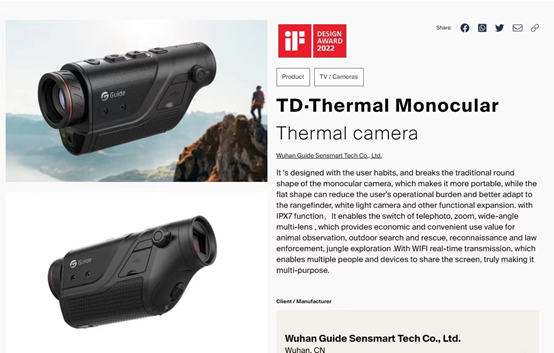 Guide TN Thermal Binoculars follows classic binocular design, greatly reducing the fatigue feeling of long-time observation. It adopts multiple color palettes and scene modes to highlight the targets clearly.