When you need to make a precise shot in low-light conditions, you need a night vision thermal scope. These scopes use cutting-edge technology to give you a clear view of your target, even in complete darkness. But with the different models you can find on the market, how do you find the best one for your needs?
This article will guide you through the key factors to consider when choosing a thermal scope and recommend some of the best models. So whether you're an experienced shooter or just starting, read on to find the right thermal scope for you.
What is a Thermal Night Vision Scope?
It is a tool that uses infrared radiation to detect the presence of heat signatures emitted by objects in low-light conditions. Thermal imagers produce images based on the temperature difference between the object and its background. These devices are used in various situations, including hunting, security, and search and rescue. Thermal night vision scopes can be handheld or mounted on vehicles, aircraft, or drones. They typically have a wide field of view and can zoom in on long-range targets. Thermal imaging is invaluable for law enforcement, military, and first responders who must operate in dark or obscured conditions.
Importance of Thermal Scopes
There are many reasons why you might need a thermal scope. If you are a hunter, it can help you spot game in low light conditions or dense brush. As well, a thermal scope can be used for security purposes, to monitor an area for intruders. Thermal imaging is also useful for search and rescue operations, as it can help locate people who are lost or trapped in dark or difficult-to-reach places.
These scopes are also becoming increasingly popular for recreational uses such as target shooting and stargazing. Many people enjoy the challenge of using a thermal scope to spot games or targets in complete darkness. Others find the experience of viewing the night sky through a thermal scope to be simply fascinating.
Key Factors to Consider
When choosing a thermal night vision scope, you might consider the following:
Image quality: Look for a scope with high resolution and clear image quality. You don't want a fuzzy image that makes it challenging to identify your target. This is vital if you plan to use the scope for hunting or shooting.
Field of view: A wider field of view is better for spotting targets at long range. But if you need to make a precise shot, you'll want a scope with a narrower field of view that can zoom in on your target. It will trade off some long-range detection for better target acquisition.
Magnification: If you need to shoot at long range, look for a scope with high magnification. But remember that high magnification can also make it more difficult to hold the scope steady, so make sure you choose a model you're comfortable using.
Battery life: Thermal scopes use a lot of power, so battery life is an important consideration. If you are using your scope for long periods, look for a model with long battery life.
Weight and size: Choose a lighter model if you need to carry your scope long distances. But if weight is not a concern, you can choose a larger scope with more features.
Durability: If you use your scope in rugged conditions, find a weather-resistant and durable model. Getting a scope that can withstand the rigors of your intended use is essential.
Best Thermal Night Vision Scopes
Now that you know what to look for, here are some of the best thermal night vision scopes on the market: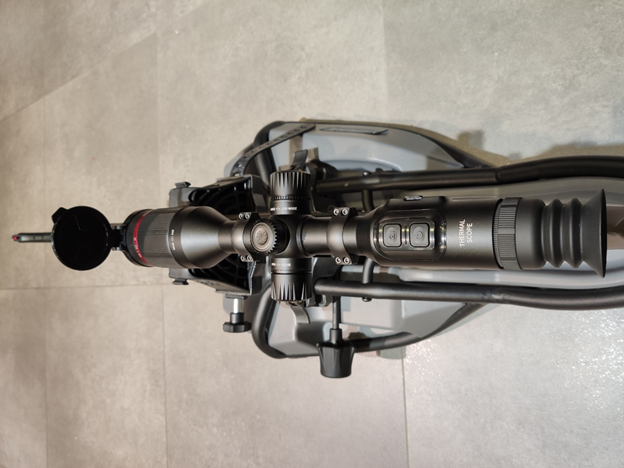 Guide TS Series Thermal Rifle Scope
The TS Series is an excellent option for those who need an economical but high-quality thermal imaging riflescope. It has 17μm@400x300 TEC metal encapsulated detectors for perfect images. The durable and rugged design withstands rough conditions without fear of harsh weather or shock resistance to give you absolute confidence in your shot. You can also zoom in on the center of the reticle while maintaining an accurate aiming point position, so there's no need to worry about losing your target.
This scope is perfect for when you need to record fast-moving objects or observations at high speeds. They come with 1024x768 resolution AMOLED eyepieces, making them great in brightly lit conditions. Its battery can be quickly and easily changed in darkness, making it an ideal solution for power outages and other emergency situations.
TS Series has different models with various features, so you can pick the one that best suits your needs.
Guide TU Ursa Major Series Thermal Imaging Riflescope
It features an HD OLED display with 1x to 8x smooth zoom, providing an accurate and comfortable visual experience for both beginners and experts in hunting or shooting sports. With ten sets of zero calibration configurations available, there is no need to recalibrate whenever you change instruments. This product will make everyday carry easier than ever before.
With the TU Series, you can easily take pictures and videos at any time. You can also share these memorable moments remotely via WIFI or Bluetooth for diversified usage. The rugged construction makes it perfect for all weather conditions - even the harshest. Plus, 10 hours of battery life ensures you're never left in the dark.
This scope is recommended since it has what most people need for a quality product. It's an excellent choice for those who want something reliable, versatile, and can be used in different settings.
The Guide TU Series is available in different models designed to meet the needs of various users.
Final Thoughts
Picking the best thermal night vision scope for your needs requires some thought and research. But it's worth it to find a scope that will help you see clearly in low-light conditions and ensure you're prepared for whatever comes your way. The recommended models above are all great options, so take your time and choose the one that's right for you.
BONUS METADATA
Meta: If you're looking for the best thermal night vision scope, look no further! This guide will help you find the perfect one for your needs.